Matthew turns Three!!!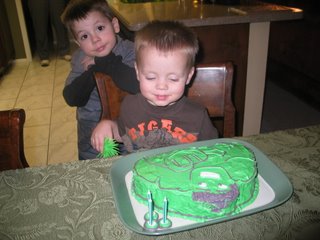 Matthew turned three on January 16th. I'm sure you all can tell how on top of this whole blogging thing I am. I generally am about a month or so late on posting anything that happens in our lives. Anyone who knows Matthew shouldn't have too hard of a guess on what kind of Birthday cake he wanted, and where we should go to celebrate his Birthday. So I made him a Hulk Smash Birthday cake.... I even dyed the cake mix green so the cake and the frosting was green. I think he liked it.... and I thought it turned out pretty good. We went up to Grammy's house for Matthews Birthday because of it's proximity to our favorite Birthday hang out Chuck E Cheese... well that, and we like spending time with "Wa Wa" as Matthew calls her. She got him a few gifts, we ate pizza, played games, and took a trip to Toys R us for him to pick something out for himself.

The next week my Mom, Becca, Hannah, and Andrew came down to visit, and bring Matthew some nice gifts. Becca is Matthew's favorite Aunt (sorry Dawn, Katie, and Angie), and sometimes I think he might like her better than me. I think he's secretly plotting to move to Becca's house. So needless to say he was pretty excited for her to come and visit, and Grandma and his cousins.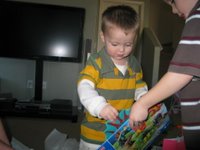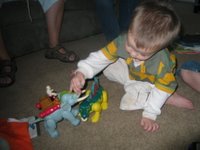 Matthew is getting to be a big boy. He wants to go to school really bad, and has a great desire for learning. He loves to play outside with Michael on our play set, jumping on the tramp, or ridding his bike. He likes to play the Leapster, and is starting to learn how to spell his name. He gets most of the right letters... just not in the right order. He's a good helper, and will get dressed by himself, and put his things away when he's asked to. I'm looking forward for another year of Matthew. He has the cutest smile, and always has a hug and a kiss for me.