Johnson Family Vacation
I know you've all been waiting for a post on our vacation. We got home from a couple of days ago, but I tend to put things off. So, I'm posting now so everyone can see how much fun we had. We all had a really great time. We went to California for about a week for some relaxation.... well I guess I wouldn't really call it relaxation... but it sure was fun. Maybe our next vacation we can do some relaxing.... this one was more about seeing how much we could do in the time we were there.
We left Sunday morning and made our first stop in Yuma. There is a really cool park there, (it's right off the freeway by the river) and figured we'd let the kids out of the car for a bit before we had to drive more. Macey seemed a little confused at all the time spent in the car over the course of the trip. Even now when I put her in the car seat she fusses.... seems she's concerned that she won't be getting out again anytime soon. Surprisingly, Matthew was our best passenger. He barely made a sound the whole way there and back... a nice change from our last trip with him.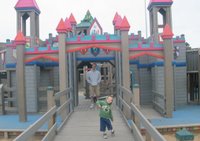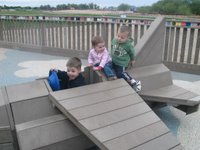 After lunch in San Diego we headed over to the beach in Del Mar. Our kids haven't ever really gotten to play at the beach before, so it was really fun for them, and for me to watch them play. Macey was really intrigued by the sand, and the boys spent most of their time throwing rocks into the water, and running away from the waves. Matthew, however got caught by one. He was really mad at the water, and accused it of getting him. It was really funny... I mean sad that he was so cold, wet and angry.
It was pretty overcast at the beach as you can see... but the weather wasn't too cold. And Matthew didn't lose any toes or anything... even after he took a cold shower to get all the sand off of him. We really enjoyed the beach.... just wish it wasn't quite so messy ; ) Well on to the rest of our trip.