Michael turns 5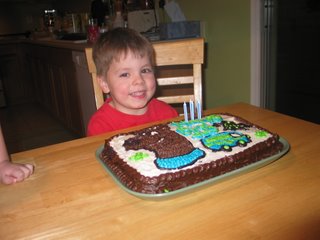 Michael turned five on March 16
th
. I'm really on top of all my blogging lately, as you can tell. He was pretty specific about what kind of cake he wanted.... although he didn't get everything he wanted.... I'm not sure there's a cake big enough to include everything on his list. He's been really into
Scooby
Doo
for about the past year. He wanted a cake with the whole Mystery Gang, and
Scooby
Doo
, and the Mystery Van, and all the monsters
coming
to get them, and
Scooby
-
Doo
written in big purple letters. Instead we settled for
Scooby
-
Doo
, the Mystery Van, and his favorite of the
monsters
... the Tar Monster. He was pretty excited about the results... so that made me feel a lot better about not having met all his requests. He should have been happy... he got to celebrate his birthday three times. More posts to follow.
As for Michael... he's pretty excited about being five. Anytime anyone mentions that he is getting so big, he
replies
... "I'm five now". I
definitely
think he's gotten bigger... much taller lately anyway. He really enjoys going to school, playing with his friends, and with his brother and sister. He's getting really good at ridding his scooter too. He's very sweet, and very smart. He has a
tendency
to want to learn about everything... so he asks lots of questions. We really love Michael.